Xero Price Increase (2022) and Alternatives
Here we explain the 2022 Xero Price Increase. Click on this link for the 2023 Xero Price Increase. How much Xero's Prices are increasing. Why Xero's prices are increasing. Also, the alternatives to Xero. With CloudBook Online Accountants, you can choose whichever software suits you the best.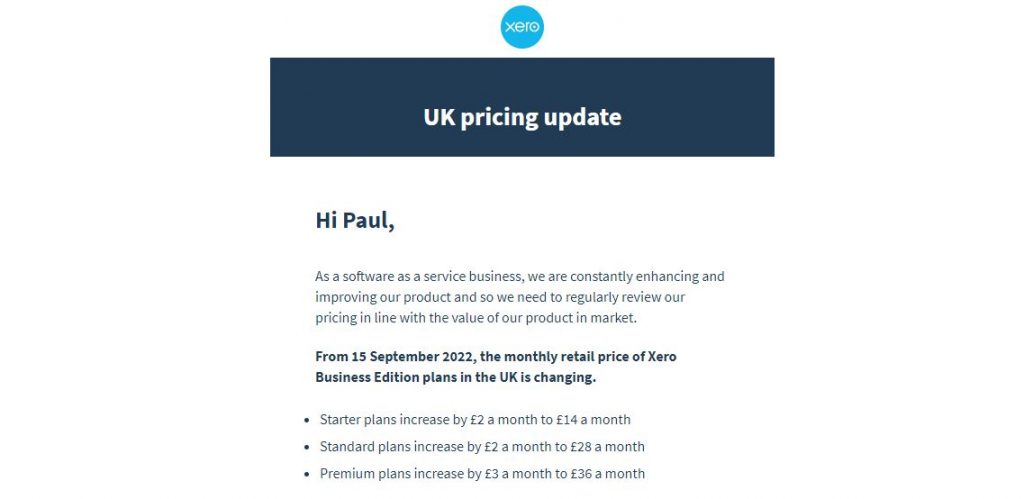 The Xero Price Increase
Here are the Xero Price increases over the past two years:
| | | | |
| --- | --- | --- | --- |
| Package | Starter | Standard | Premium |
| 2020 price £pcm | 10 | 24 | 30 |
| 2021 price £pcm | 12 | 26 | 33 |
| 2021 increase | 20% | 8% | 10% |
| 2022 price £pcm | 14 | 28 | 36 |
| 2022 increase | 17% | 8% | 9% |
| 2 Year increase | 40% | 17% | 20% |
Why are Xero's Prices Increasing Again?
Xero state that they are constantly enhancing and improving their product. That the pricing is in line with the value of Xero in the current market. It will help Xero to respond quickly with new tools and services that business might need. Also that it will improve Xero in the future.
Has Xero improved?
In our opinion, Xero is certainly improving all of the time, however those changes are small. Where the changes are not small, they usually come at an extra cost, such as the Expenses or Projects add-ons. The core platform, in our opinion, has not improved enough over the past two years to justify up to a 40% increase in the Xero price over the past two years. Having said that, it is still the best online accounting software for small businesses. So if you can afford to continue using it, you should.
Alternatives to Xero Price Increase
Use CloudBook Online Accountants
With CloudBook Online Accountants, unlike other accountants, you can use whichever software you prefer. We don't make you use Xero software, so you don't have to pay their high prices. As well as that, you'll probably save on accountancy fees too, with our low fixed monthly fees.
Downgrade Xero Plan
To avoid the price increase, could you downgrade your Xero plan? The Starter plan now has unlimited bank transactions and allows up to 20 sales invoices and 5 bills per month. Instead of using bills you could just attach them to the bank transaction. The Standard plan is only missing multi-currency which is only essential if you have foreign bank accounts. If you have few foreign currency transactions you could convert them manually.
Pandle
Pandle is unlimited and comes with multi-currency and bank feeds for £5pcm. We can get it for £2.50pcm. It's relatively new, sometimes slow, and takes a while to get used to. However, it should cope with most things you use Xero for.
QuickBooks
QuickBooks is our next most popular software after Xero. It does most things that Xero can do and is quite easy to use. Their Simple package is £12pcm, Essentials £22pcm, Plus is £32pcm.
FreeAgent
FreeAgent is geared towards small business and freelancers. Natwest and RBS customers can get it for free. We can get it for our clients for £17.50pcm.
Kashflow
Kashflow is less popular than it used to be. However, if you have straightforward accounting transactions, it can work well for you. Starter is £9pcm, Business is £18pcm or with payroll is £24pcm.
QuickFile
Quickfile is used by a few of our clients. It's less easy to use but it can be free if you have less than 1000 entries per year, otherwise it's just £45pa. If you want automated bank feeds, that's an extra £15pa.
Spreadsheets
If you're not VAT registered, you could use a spreadsheet (e.g. Excel, Google Sheets, Numbers) to do your accounting. While we prefer online accounting software, if your accounting transactions are straightforward, a tidy spreadsheet would be ok. All transactions need to be categorised.
Our Own Software
We have our own free software which very basically allows you to list your sales and expenditure. It can also submit MTD VAT returns.
Other Online Accounting Software
There are many other online accounting software platforms available. We'll consider doing your accounts etc using any online accounting software. Look out for ones that can link to UK bank accounts and are MTD compliant. Unfortunately, this excludes Wave accounting which is a free alternative if you don't need those things.
About Us
Our Prices
Instant Quote